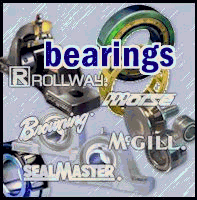 Well known for its performance proven roller chains drives, Morse also manufactures and markets many other bearing and power transmission products, clutches, worm gear products and other widely utilized equipment, including conveying components. Headquartered in Ithaca, New York.




The world's most specified bearing is also the world's premium quality mounted bearing line, including the renowned Gold Line. Choose from the broadest selection of stock sizes, with upto three times the warranted life of competitive bearings. Also offered in a wide selection of custom designs.




Highest quality Rollway products are offered in over 2,000 different types of cylindrical roller bearings, cylindrical thrust bearings and tapered roller bearings. They are utilized widely in gear boxes, helicopter transmissions, large hydraulic pumps, off-highway and extrusion equipment.




The world leader in V-belt drives, also broad spectrum of other efficient power transmission products - gearing bearings, other drives and componenets. Based in Maysville, Kentucky. Has been in operation continually since 1886.




Mcgill introduced the famous CAMROL cam follower bearing more than 60 years ago. It was the first successful full-complement type anti-friction bearing on the market and is still the leader. It is offered in over 1,400 different combinations and configurations.




Kop-Flex heavy duty industrial shaft couplings and technology serve industrial applications from pumps to compressors in petrochemical, pulp and paper and metal rolling industries. The couplings are offered in gear, taper grid, flexible metallic disc and resilient shaft types manufactured to the highest quality standards.




Van Gorp of Pella, Iowa is a leading manufacturer and marketer of a full line of conveyor pulleys including the new line of motorized conveyor pulleys. These are applied in services that range from small unit handling conveyors to large steel belt and other conveyor types.




HARCHANDRAI SONS
Harchandrai House,
81 Queen's Road,
P.O. Box 2417,
Mumbai - 400 002, India.
Tel.: 91 - 22 - 22089090 / 22053860 / 22018438 /
5633 7300 / 5635 7900 / 5635 9091

Fax: 91 - 22 - 66361376
E-Mail: harchandraisons@gmail.com